Single-Nucleon Densities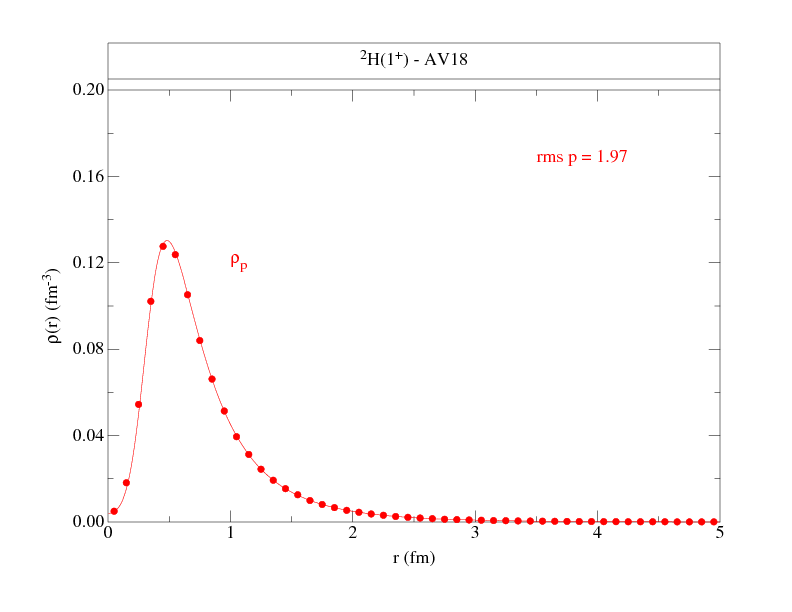 This web page presents single-nucleon densities calculated for a variety of nuclei in the range A=2-10 with some preliminary results for A=11,12. Corresponding two-nucleon densities can be found here. These are from variational Monte Carlo calculations (VMC) using the Argonne v18 two-nucleon and Urbana X three-nucleon potentials (AV18+UX). (Urbana X is intermediate between the Urbana IX and Illinois-7 models; it has the form of UIX supplemented with a two-pion S-wave piece, while the strengths of its terms are taken from the IL7 model. It does NOT have the three-pion-ring term of IL7.)
These VMC wave functions are the starting trial functions for a number of recent Green's function Monte Carlo (GFMC) calculations:
Brida, et al., Phys. Rev. C 84, 024319 (2011);
McCutchan, et al., Phys. Rev. C 86, 024315 (2012);
Pastore, et al., Phys. Rev. C 87, 035503 (2013);
Pastore, et al., Phys. Rev. C 90, 024321 (2014).
More details of the wave function construction can be found in
Wiringa, Phys. Rev. C 43, 1585 (1991) for A=3,4;
Pudliner, et al., Phys. Rev. C 56, 1720 (1997) for A=6,7;
Wiringa, et al., Phys. Rev. C 62, 014001 (2000) for A=8;
Pieper, et al., Phys. Rev. C 70, 044310 (2002) for A=9,10.
The results are generated as distributions for neutron spin-down, neutron spin-up, proton spin-down, and proton spin-up, for the M=J state. The densities are for the same wave functions used in generating the single-nucleon momentum distributions given here
Following are figures and files that tabulate the proton and neutron densities to give an overall view of their shapes. The normalization is chosen such that:
ANS = ∫ d3r ρNS(r)
where NS denotes proton or neutron, spin up or down, and ANS is the total number (out of A) nucleons with the given nucleon-spin projection. Where proton and neutron density distributions are the same, as in T=0 nuclei, we give only one set, and similarly, if spin-up and spin-down projections are the same, as in 0+ states, we give totals only.
Robert B. Wiringa
Last update April 28, 2017